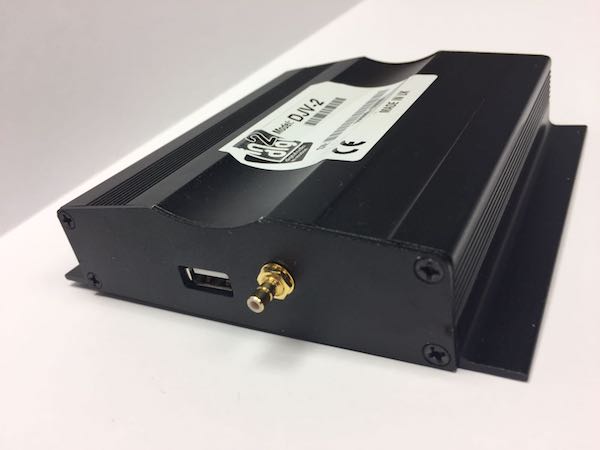 The D-JV-2 product is a DAB / DAB+ system for Jaguar and Land Rover legacy vehicles fitted with MOST fibre optic infotainment systems (supporting GEN1, GEN2 and GEN2.1 configurations).
The product is designed to:
Seamlessly replace a factory DAB only tuner fitted to vehicles in countries now with DAB+ transmission. Note – replacement systems require a power connection change but do not require a vehicle re-configuration.
Provide an aftermarket vehicle system upgrade that is a fully integrated solution. Note – a vehicle DAB configuration is required.
Features:
DAB / DAB+ Band III Support
CE / RED Compliant
Service Following (an in2digi improvement deliverable that is not supported by the OEM product)
Digital "all the way" – full integrity from the network transmitter to the vehicle interface for the provision of premium quality audio
Metal shielded case.
Supplied:
1x D-JV-2 DAB interface
1x Power Loom
1x Fibre loom with joiner for connecting to existing fibre
Compatibility (Model Years not 1st registered date):
Land Rover Discovery 4 ………………………………… 2010 to 2015
Land Rover Range Rover …………………………….. 2010 to 2016
Land Rover Range Rover Sport ………………………. 2010 to 2016
Land Rover Freelander 2 (with Hi Line system) ………. 2007 to 2014
Land Rover Range Rover Evoque ……………………. 2012 to 2015
Jaguar XF …………………………………………………. 2008 to 2015
Jaguar XK …………………………………………………. 2009 to 2012
Jaguar F-Type …………………………………………… 2012 to 2015
Jaguar F-Type (for non InControl Touch systems) …… 2015 to 2017
Jaguar XJ ………………………………………………… 2010 to 2015
This system is not compatible with the latest InControl Touch and InControl Touch Pro systems.