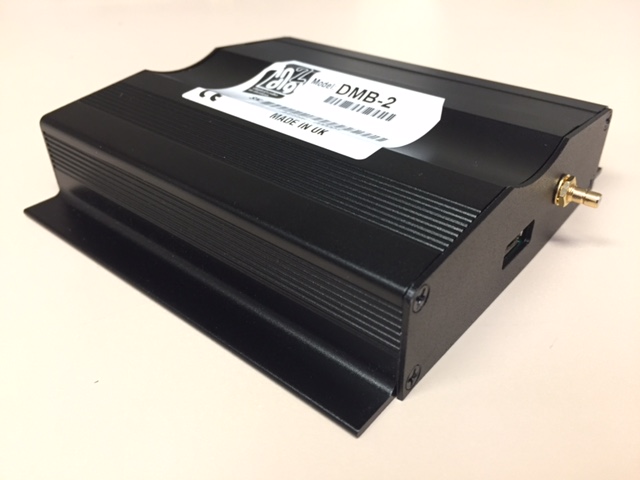 The D-MB-2 is a DAB / DAB+ system for Mercedes Benz vehicles with NTG2.5 COMAND, NTG3, NTG4 COMAND, NTG4-W212 COMAND/Audio-20-CDC/Audio-50-APS, and NTG4.5 COMAND/Audio-20-CDC systems.
(Audio 20 with single disk is not supported as it has no fibre connection).
The product supports an 8V phantom fed antenna, thus allowing Mercedes factory antenna amplifiers to be installed, or a retro-fit antenna that will operate at 8Volts to be used.
Currently it is the only Aftermarket product that supports DAB/DAB+ Service Following on all supported platforms.
Features:
DAB / DAB+ Band III Support
CE / RED Compliant
Digital "all the way" – full integrity from the network transmitter to the vehicle interface for the provision of premium quality audio
Metal shielded case.
Supplied:
1x D-MB-2 DAB interface
1x Power Loom
1x Fibre loom with joiner for connecting to existing fibre or for vehicles without fibre.
Compatibility:
NTG4.5 COMAND APS (colour navigation system with SD card slot on head unit) and Audio-20 with inbuilt CD-Changer and NAV button in: –
A Class, W176 from start of production to Model Year 16 change to NTG5*1
B Class, W246 from start of production to Model Year 16 change to NTG5*1
C Class, W204 from MY2012 Facelift to End of Production
CLA Class, W117 from start of production to Model Year 16 change to NTG5*1
CLS Class, W218 from start of production to Model Year 16 change to NTG5*1
E Class, W207/W212 from ~MY2011 to Model Year 2016 facelift (change to NTG5*1)
G Class, with COMAND NTG4.5
GL Class, X166 from start of production until series renamed to GLS
GLA Class, X156 from start of production until Model Year 16 change to NTG5*1
GLK Class, X204
ML Class, W166 from start of production until series renamed to GLE
SL Class, R231 from start of production until Model Year 16 change to NTG5*1
SLK Class, R172 from start of production until Model Year 16 change to NTG5*1 / series renamed to SLC
NTG4-W212 Audio-20
E Class W207/W212 *MUST HAVE CD Changer built-in*
NTG4-W212 Audio-50-APS (basic navigation system) in
E Class, W207/W212
NTG2.5/NTG3/NTG4/NTG4-W212 Comand APS (colour navigation system) in
A Class, W169, From Mid 2008 facelift Until end of production. (System with Navigation Hard Disk inbuilt)
B Class, W245, From Mid 2008 facelift Until end of production. (System with Navigation Hard Disk inbuilt)
C Class, W204, Until mid 2012 facelift. (System with Hard Disk navigation)
CL Class, W216, before mid 2010 facelift.
CLC Class, W203 From December 2008 (System with Navigation with Hard Disk inbuilt)
CLS Class, W219, From Mid 2008 facelift Until end of production. (System with Navigation Hard Disk inbuilt)
E Class, W207/W212 with COMAND with PCMCIA slot
E Class, W211, From Mid 2008 facelift Until end of production. (System with Navigation Hard Disk inbuilt)
GLK Class, X204 with COMAND with PCMCIA slot
ML/GL Class, W164, From Mid 2008 facelift Until end of production. (System with Navigation Hard Disk inbuilt)
R Class, W251, From Mid 2007 facelift Until end of production. (System with Navigation Hard Disk inbuilt)
S Class, W221, before mid 2010 facelift.
SL Class, R230, From Mid 2008 facelift Until end of production. (System with Navigation Hard Disk inbuilt)
SLK Class, R171, From Mid 2008 facelift Until end of production. (System with Navigation Hard Disk inbuilt)
It is not compatible with the Audio-20 single disk units as they have no fibre optic connection